Electromagnetic Hammering Device "MagHammer" Hammering equipment
Usage・Features・Specifications
MagHammer Selection Guide
Catalog
<Usage>
Prevents rat hole, arching and bridging for hoppers, shooters, air ducts, and tanks.
<Features>
1. High efficiency for continuous impacting force.
2. Flexible adjustments by controller fit specific needs for application.
3. Sealed design allows use in severe dusty atmosphere.
4. Operation can be activated by an external signal, internal timer or manual control.
Clogging Adhesion

<Specifications>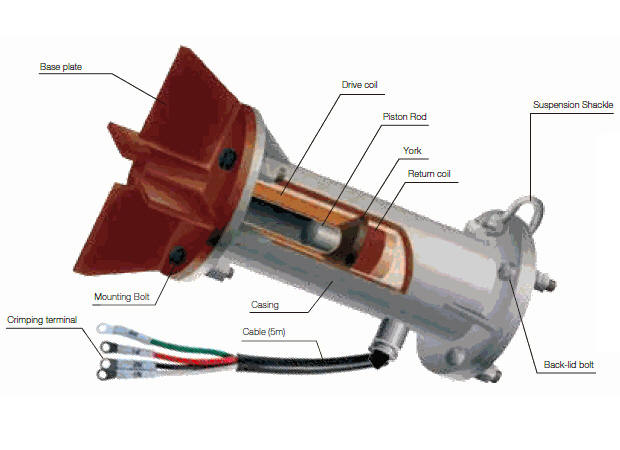 etc
● High Temperature Model (Ambient Temp. up to 100 degree C).
● Corrosion resistance (SUS version is available).
● Direct impact type with extended piston.
● Base plate, bolts and nuts are included for installation.
● 5m connection cable is included.


Although the specific model and quantity will vary depending on the shape and dimensions of thehopper, as well as the condition of clogging and various other characteristics, the condition and water content of the powder, among others, general applications can follow the table shown at right to select model and quantity. Select appropriate model using the hopper wall thickness (t) and diameter (OD) value.
Since impact force is adjustable, you should select the largest model from among the applicable models and turn down the impact force allowing for stronger impact force for difficult batches or materials.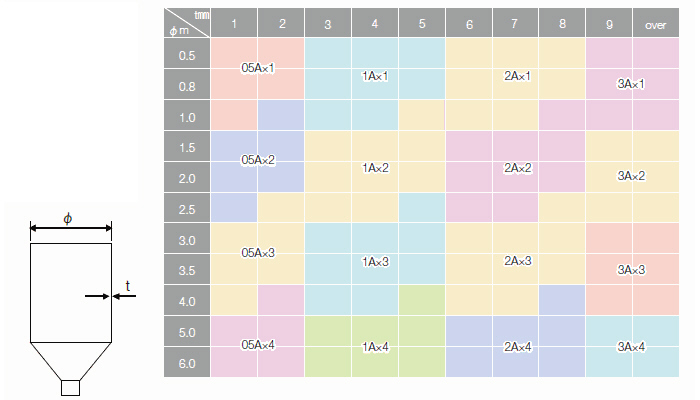 ※Download pdf by clicking on the title.
Catalog download