Separation and Compression of Aluminum and Steel Can!
Features・Specifications
Catalog
Magnetic Pulley separates aluminum and steel cans into separate bins and automatically compacts them when full.
<Features>
1. Requires small space for installation
2. Liquid vent to release water from cans
3. Easy Installation
<Specifications>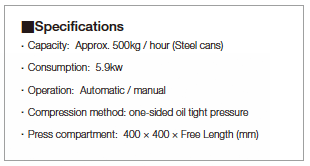 ※Download pdf by clicking on the title.
Catalog download